Talonīs Eyrie
The Talon´s Eyrie is one of the classical restraints sites on the net, that oldtimers will remember as a popular free site. It still looks more or less like it´s good old self after all these years, but it´s grown into a major paysite featuring enourmous amounts of chains content and info.
The focus in Talon´s Eyrie is on the ties part of the Sadomaso world primarily. Unlike most paysites of today Talon´s Eyrie doesnt just feature a video and a picture section, on top of that this site has rant´s and ramblings, an active forum, reviews, a massive story section, illustrated chains technique guides and many more neat features.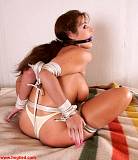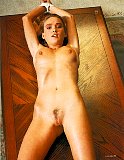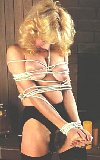 The picture and video content of Talon´s Eyrie is massive and of high quality. There´s thousands and thoudans of shots to go through in the themed galleries such as Ringed & Drooling, Tormented Femme, Artistic Pets, The Straightjacket, Wicked Wanda, Bedtime Encased, Oriental Ropework, The Cupping, Stocks, Sheer Kinky, Breast Restrained and so forth. There´s literally thousands of these themed galleries, which each contains of round 20 pictures. The galleries gets around the theme of ties very thoroughly, here´s strict ropes, female domination, exotic restraints, hotwax and so forth, but take note that this isn´t an archive of the intense, the features are on chains of all kinds.
As for the video section it´s extensive as well. There´s close to a hundred full length ties footages, and numerous shorter footages on top of that. Generally the movies are in a nice resolution and presented in standard formats (realmedia and windows media player), and as such this definately is one of the bigger restraints video archives outthere. The vast majority of the shots and clips on Talon´s Eyrie are presentations from other websites, there´s nothing dodgy about it as it comes with banners and links to the relevant site, from which the material has been obtained. The consequence however is that this ties website isn´t your optimal spot for new and exclusive experiences in confinement, whereas it is indeed perfect if you want to get an overview of the ties world, more or less unlimited bondage archives, and a thorough introduction to all the techniques and types of play that´s to be found.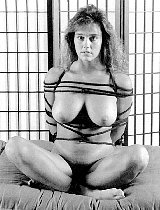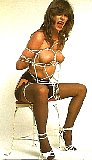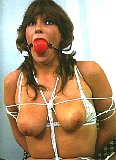 Apart from the regular bondage paysite features, the shots and clips, the story sections stands out as a true benefit. Many sites doesnt even feature stories anymore, but at Talon´s Eyrie you can find bondage stories by the hundreds, and even in the digital age nothing sparkles imagination like a good read. It´s a matter of taste, but I was thrilled to see that for once this area wasnt neglegted. Furthermore its worth taken a trip down memory lane in the photographs archives in which alot of the famous old 80´s confinement series are fully featured along with for instance the complete chains artwork by Bishop. It´s little things like that, that doesnt make the site worthwhile in themselves, but combined they make up for a very good quality product with countless hours of entertainment to offer to the ties viewer.
The overall impression of Talon´s Eyrie is positive in many ways. The impressive amount of chains pictures and clips, the ties stories, the extras in the archives, the interaction on the forum and so forth - it all adds up to a unparalleled site at which you can find quality chains amusement for a long while and continuously, given the steady daily updates.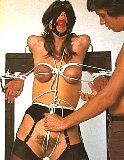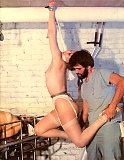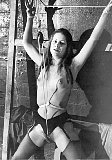 Visit Talonīs Eyrie.